There are so many fun things to do in Berkshire County! Whether you're looking for a weekend getaway road trip or a day trip into a winter wonderland, Western Massachusetts is the perfect place. Here are 12 great things to do in the Berkshires in winter!
Whether you're a lover of the great outdoors or art galleries and historic homes, we promise you'll have a good time in one of the best places to travel to on the East Coast.
Outdoor Activities in Berkshire County
Berkshire County is full of great opportunities for outdoor activities. With mountains fit for a handful of activities, beautiful Massachusetts State Parks, and local parks, the great outdoors awaits.
Ski/Snowboard
Skiing and Snowboarding are the most popular winter outdoor recreation activities for a reason! The thrill of flying down a mountain is an adrenaline rush and absolutely boosts an individual's mood. This alone makes it one of the most popular things to do in the Berkshires in winter.
Luckily, Ski Centers and Resorts have terrain for every kind of rider. Come to the Berkshires as a long-time rider or to learn and let it be the birthplace of a new hobby for you and your family. Additionally, they all offer snowboard and ski lessons for first-timers and those simply looking to improve their skills.
Berkshire East Mountain Resort
Located in Charlemont, Massachusetts
ELEVATION: 1,840 FT
VERTICAL RISE: 1,180 FT
AVERAGE ANNUAL SNOWFALL: 110 INCHES
SNOWMAKING COVERAGE: 100%
LONGEST RUN: 2.5 MILES
Berkshire East Mountain Resort offers 45 trails serviced by 6 lifts over 180 acres. 18 of those trails remain open for night skiing, including two terrain parks.
Spend a day at the first ski area in the world to generate 100% of its power from on-site renewable energy. If their environmentally conscious ways don't convince you, maybe this will. Berkshire East Mountain Resort's trail difficulty is split pretty evenly between beginner, intermediate, and difficult. This makes it the perfect place for parties with varying ability levels to come and challenge themselves in the winter!
Bousquet Mountain
Located in Pittsfield, Massachusetts
ELEVATION: 1,818 FT
VERTICAL RISE: 750 FT
AVERAGE ANNUAL SNOWFALL: 83 INCHES
SNOWMAKING COVERAGE: 90%
LONGEST RUN: 0.6 MILES
200 skiable acres provide 22 trails at Bosquet Mountain. With all but a few runs lit up for night riding, this is a great place for some twilight laps and grabbing a bite to eat at Lift Bistro Pub on the second floor of the lodge.
Wouldn't it be neat to night ski at the first ski resort in America to offer night skiing? Thanks to a local partnership with General Electric, Bousquet Mountain first turned on its night-riding lights in 1936. Be a part of that rich history and take a few laps under the lights during your stay in the Berkshires.
Butternut Ski Area
Located in Great Barrington, Massachusetts
ELEVATION: 1,800 FT
VERTICAL RISE: 1,000 FT
AVERAGE ANNUAL SNOWFALL: 115 INCHES
SNOWMAKING COVERAGE: 100%
LONGEST RUN: 1.5 MILES
Enjoy 22 trails over 110 acres of skiable terrain serviced by 4 quads and 1 triple. Butternut is not open for night skiing. The last chair is at 4 PM so be sure to make evening plans elsewhere!
Butternut Ski Area is a great place to learn how to ski or snowboard. All four main mountain lifts provide access to beginner terrain. Several Magic Carpets and one chairlift are available near the rental shop for those early in their learning experience.
Catamount Ski Resort
Located in Hillsdale, New York
ELEVATION: 2,000 FT
VERTICAL RISE: 1,000 FT
AVERAGE ANNUAL SNOWFALL: 108 INCHES
SNOWMAKING COVERAGE: 93%
LONGEST RUN: 1.74 MILES
133 acres provide 44 machine-groomed trails serviced by 8 lifts at Catamount Ski Resort. Don't let the fun end at sundown! Ski and ride 22 night trails from 3 PM to close Wednesday through Saturday.
Catamount is unique in that it is one of only three ski resorts to straddle two states! Located on the border of New York and Massachusetts Catamount is a great place for riders of all abilities. With 3 wonder carpet surface lifts for true beginners and over 75% of their runs designed for intermediate and beginner riders, Catamount is one of the most perfect family-friendly things to do in the Berkshires in Winter.
Jiminy Peak Mountain Resort
Located in Hancock, Massachusetts
ELEVATION: 2,380 FT
VERTICAL RISE: 1,150 FT
AVERAGE ANNUAL SNOWFALL: 68 INCHES
SNOWMAKING COVERAGE: 96%
LONGEST RUN: 2 MILES
Six lifts lead to 45 skiing and snowboarding trails over 167 acres of pristine mountain terrain. Jiminy Peak Mountain Resort also offers 25 night skiing and riding trails for anyone who doesn't want the fun to end when the sun goes down.
Plan a memorable family vacation or adventurous couples retreat! With a variety of terrain, lesson options (including adaptive lessons with PSIA-trained coaches), and lodging options, it's no wonder the largest ski and snowboard resort in southern New England is also the most popular.
Hiking
If you're looking for one of the best ways to experience the great outdoors in the Berkshires, you'll want to take a hike. There's a hike for every ability level and interest in the Hoosac and Taconic Mountain ranges.
Download the Berkshires Trail App to find great hikes and all the information you'll need for your adventure. We recommend bringing mico spikes on every winter hike and having snowshoes available in the event that the snow is 8 inches deep or more.
Here are our favorite hiking trails in the Berkshires!
Mount Greylock
Located in Adams, Massachusetts
At 3,491 feet, Mount Greylock is the tallest mountain in Massachusetts. It provides stunning views from its summit and a truly beautiful war memorial. Gaze out over New England farmland or take the Overlook Trail for more mountainous views of the Berkshires.
There are a number of trails that will bring you to the summit of Massachusett's highest peak, however, we chose the Cheshire Harbor Trail as it is the fastest and easiest way to the summit. A short walk on a seasonal road led to a single-track trail with a steady incline to the summit. The final two miles of the hike, where we joined up with the Appalachian Trail, were by far the most beautiful with snow-covered trees and icy evergreens.
At the summit, you'll notice an architecturally stunning tower. This is the Veterans War Memorial. Enjoy its beauty from afar in the winter months as large sheets of snow and ice were falling from the top during our visit.
During the summer months, visitors to Mount Greylock can actually drive to the summit and explore the mountain on foot from there. In the winter this same road is used for cross-country skiing and snowmobiling!
Monument Mountain
Located in Great Barrington, Massachusetts
Enjoy views of the Housatonic River Valley from the summit of this 1,642 foot mountain.
Located on the 503-acre Monument Mountain Reservation, this is a popular hike in the Berkshires. Gaining 958 feet over 3.8 miles round trip will lead to some of the best mountain views in Massachusetts.
It's important to note that Monument Mountain Reservation is home to a number of trails.
Laura's Tower Trail
Located in Stockbirdge, Massachusetts
A short hike through old pine and hemlock leads to a metal tower providing panoramic views of the middle Berkshires.
Gain 650 feet of elevation over 1.8 miles for the possibility of seeing the Catskills to the west and the Green Mountains to the North. On a clear day, views 50+ miles out aren't unheard of.
The trail begins at the end of Park Street and starts with crossing the Goodrich Memorial Footbridge over the Housatonic River. At the fork, turn left for Laura's Tower or right for Ice Glen Trail.
There's also a packed gravel trail at this parking area that is considered accessible in the summer months.
Olivia's Overlook
Located in West Stockbirdge, Massachusetts
At the center of the 734-acre Yokun Ridge South reserve you'll find the beautiful Olivias Overlook. A 2-mile loop will lead you to an overlook with stunning views of Monument Mountain and the towns of Richmond and West Stockbridge.
Hike the trail clockwise for a longer, more gradual uphill climb. Hike the Charcoal trail counterclockwiseto get your 528 feet of elevation gain out of the way quickly.
Yukon Ridge South Reserve is home to a few other trails as well. The Brothers Trail and Burbank Trail provide additional views and mileage if you do so choose.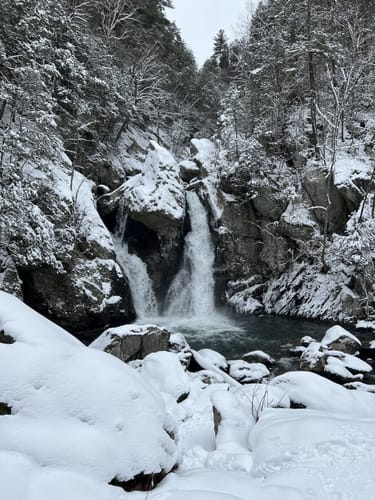 Bash Bish Falls
Located in Mt. Washington, Massachusetts
Home to the tallest waterfall in Massachusetts, Bash Bish Falls is a popular scenic destination all year round. This park lies right on the New York border which means both Taconic State Park and Bash Bish Falls State Park offer visitor amenities.
If you park in the Massachusetts lot, you're looking at a .6-mile round-trip hike that is more strenuous than the 1.5 miles, more gradual New York trail.
View the 80-foot waterfall from the falls viewing deck or embark on one of the above-mentioned hikes to get up close and personal with the emerald plunge pool.
Natural Bridge State Park
Located in North Adams, Massachusetts
Natural Bridge State Park boasts the only white marble arch in North America. Look on in awe as Hudson Brook tumbles through a 60-foot gorge below the bridge.
The park is also home to an abandoned marble quarry and a man-made white marble dam, also the only of its kind in North America. A variety of short trails can bring you to all of these marble sites.
Natural Bridge State Park is only open to the public from Mid May through Mid October. It is a popular outdoor destination in North Adams, but please know that is it not open in the winter months. Consider visiting again in the summer months to check this off the list!
Tubing
Tubing is an amazing way to spend time outside with family and friends in the winter months. It requires very little skill, is affordable in comparison to other winter sports, and is considered low impact.
There are a number of places in the Berkshires where you can go tubing.
Tubing often happens in sessions. This means your time on the mountain will be short, sweet, and full of smiles. You do generally have to book your session ahead of time, so plan accordingly for this.
Cross-Country Skiing
Cross-country skiing is a great way to get outside, cover a lot of ground, and experience winter in the Berkshires. It add an element of fun that hiking lacks without the fear-factor of downhill skiing.
Here are five front-country, ski-touring locations in the Berkshires.
Canterbury Farms
Located in Becket, Massachusetts
Enjoy over 13 miles of groomed and tracked ski trails. Beginner, intermediate, and advanced trails are hand groomed each day for your enjoyment. Ski through vast fields and alongside beautiful brooks, lakes, and mountains to experience the Berkshires.
There is a menial fee for day passes and rentals are available for cross-country skiing and snowshoeing.
Hilltop Orchards
Located in Richmond, Massachusetts
Take a lesson from a PSIA-certified instructor at this 100-year-old apple orchard. Hilltop Orchards offers over 200 acres of groomed classic and skate-style cross country ski trails.
Rental skis are available for a small fee!
Kennedy Park
Located in Lenox, Massachusetts
Enjoy the groomed trails at Kennedy Park located directly behind the Arcadian Shop. Stop by the Trailside cafe after your ski for coffee and a snack!
The Arcadian offers cross-countryski rentals, as well as ddownhill ski and snowboard rentals. In the summer, they offer bike and paddleboard rentals as well.
Notchview
Located in Windsor, Massachusetts
Notchview boasts 3,000 acres of rolling terrain. There are over 10 miles of track-set classical cross-country skiing trails, about 5 miles groomed for skate skiing, and a separate trail system groomed for skijoring. You're also free to go off-track and explore the backcountry.
Notchview has one day ski packages available for rent!
Pleasant Valley Wildlife Sanctuary
Located in Lenox, Massachusetts
Enjoy over 1,000 acres of trails through forests, meadows, and wetlands along Lenox Mountain. This is the perfect location for an easy hike and provides you with ample opportunities to see local wildlife.
Take the universally accessible All Persons Trail to the viewing platform overlooking Pikes Pond. The trail provides information in large print, braille, audio, and tactile formats. From the viewing platform, you might just be able to watch an active beaver colony at work!
Pleasant Valley Wildlife Sanctuary also offers a challenging hiking option. Hike to the summit of Lenox Mountain for unparalleled views of Berkshire County. Bluebird Trail to Overbrook Trail, the recommended trail in winter, is 3 miles round trip and covers about 950 feet of elevation gain.
One of the coolest parts of Pleasant Valley Wildlife Sanctuary is that their trail markers, on all trails, are blue and yellow. Blue markers are leading you away from the parking lot while yellow means you're on the return.
If you are traveling with littles, be sure to check out their nature play area. The natural elements inspire unstructured play full of problem-solving and creativity! Be sure to check out the program catalog for classes and activities offered during your trip!
Scenic Drive
Nearly every road in the Berkshires is scenic, but here's a list of a few that are exceptionally beautiful.
Jacob's Ladder Trail, historic route 20
The 33-mile Jacob's Ladder Trail runs through the foothills of the Berkshires. You'll meander around river bends, drive through small towns, and crawl over steep rocky ledges with amazing views of the Berkshires.
Mohawk Trail Byway, route 2
The Mohawk Trail Byway stretches 65 miles from Greenfield to Williamstown. Nineteen miles of this byway provide stunning views of the Northern Berkshires.
Mount Greylock Scenic Byway, route 2
Although this 16-mile scenic drive is closed in the winter, it is a great option if you plan to return in the summer months. Drive up to the summit of Massachusetts tallest mountain from Lanesborough to North Adams.
Things to do in the Berkshires For Art Lovers
These cultural attractions are amazing things to do in the Berkshires all year round. With a wide variety of performance centers and some of the largest contemporary art museums in the state of Massachusetts, the Berkshires are home to arts and culture fit for the whole family. Throw in a handful of historic buildings and world-class museums and you have yourself a well-rounded winter weekend getaway in the Berkshires!
Clark Art Institute
Located in Williamstown, Massachusetts
The Clark Art Institute is located on the campus of Williams College. Its mission is to advance and extend the public's understanding of art through a variety of year-round public programs. Although the Institute's permanent tocllection is based on the private collection og Sterling and Francine Clark, there are a variety of special exhibition galleries and rotating special installations.
The 140-acre campus provides ample opportunities for enjoying outdoor beauty as well! A handful of trails are eopen to the public at no cost and provide stunning views of thesurroundingg Taconic, Green Mountain, and Berkshire Ranges.
Complimentary snowshoes are available for you to borrow when you visit so you can enjoy the campus in style. The Clark Art Institute's Project Snowshoe allows visitors to experience a winter wonderland in northern Berkshire County
Barrington Stage Company
Located in Pittsfield, Massachusetts
Barrington Stage Company offers an exciting and engaging theatre experience. In the winter months, you can catch a 10×10 Thursday through Saturday night. Experience 10 ten-minute plays by 10 different playwrights. It's a blast!

If you're traveling to the Berkshires during the Holiday Season, look into BSC's holiday show for a festive evening.
Check out Barrington Stage Company's website for more information on the productions, educational programming, and community engagement. As a not-for-profit professional theater company that has produced several award-winning plays and musicals, a lover of the arts should plan accordingly on their next visit to the Berkshires! 
Massachusetts Museum of Contemporary Art
Located in North Adams, Massachusetts

The Massachusetts Museum of Contemporary Art, also known as the MASS MMoCA, provides a lively space for making and enjoying art. MASS MoCA embraces all forms of art, including, but not limited to, music, sculpture, dance, film, painting, photography, and theater. Check out the list of current exhibits to see what kind of art is currently being featured.
As one of the largest centers for contemporary visual and performing arts in the United States, we suggest you plan enough time to truly experience the art galleries and exhibitions. A lot of the art that you will see during your visit is made in the building. Through extended residencies, brilliant and innovative artists create in the amazing spaces provided to them.
The MASS MoCA campus includes a full-service restaurant, a cafe, and an innovative microbrewery that highlights locally malted grains and hops from the Berkshire Valley! Be sure to stop by for a mid-art-adventure fuel-up.
Jacob's Pillow
Located in Becket, Massachusetts
Jacob's Pillow is known for its epic summer dance festival, however, the National Historic Landmark offers year-round community programs. Lauded worldwide as the hub and mecca of dancing, Jacob's Pillow is a 220-acre treasure.
With a strong focus on building community, Jacob's Pillow offers a variety of programs that inspire both adults and children to share their stories through movement. In the winter and spring months Pillow Pop-ups take place on and off campus.
If you love dance performances, plan to return to the Berkshires for the summer festival. Purchase your tickets now to hold yourself accountable!
Norman Rockwell Museum
Located in Stockbridge, Massachusetts
Dedicated to the legacy of illustrator Norman Rockwell, the museum's mission is to share the life, art, and spirit of Normal Rockwell and the field of illustration.
The museum includes nearly 1,000 of Norman Rockwell's original paintings and drawings. The ever-changing exhibits mean there's always something new to see. Check the exhibitions page to see what's current and upcoming.
The studio, which was the last of 20 and the one he called "his bests studio yet", is available for tours from May through October.
Visit Historic Homes
Take a literary tour of the Berkshires to visit historic buildings associated with famous writers such as Nathaniel Hawthorne, Edith Wharton, and Herman Melville.
Learn more about Nathaniel Hawthorne, author of The Scarlet Letter and The House of the Seven Gables, at the Berkshire Museum. Visit Edith Wharton's home, a National Historic Landmark, for a variety of tours, programs, and events to learn the story of the house. Take a trip to Herman Melville's house in Pittsfield, known as Arrowhead, to see the place where Moby Dick and many other popular novels were written.
Other popular historic sites in the Berkshires include Hancock Shaker Village and the Ventfort Hall Mansion.
Where Should I Stay in the Berkshires in Winter?
I suggest staying in Lenox, Massachusetts. It's the ideal place due to its central location in Berkshire County. It's about a 45-minute drive from Lenox to North Adams or Williamstown on the North end and about 35 minutes from Sheffield on the southern end of the county.
Lenox itself is a quaint, picturesque town full of beautiful victorian homes and delicious restaurants and bakeries.
The Lenox Collection features three separate victorian properties, each with its own unique charm. We stayed at the Constance which was walking distance from the restaurants and bars but far enough away that it was quiet.
The Dewey is absolutely beautiful and just enough out of town. A very short drive or a moderate walk will have you in the heart of Lenox in no time. The property is quiet and quite magical with a sprinkle of snow.
If you want to stay in the small-town hustle and bustle, the Whitlock is your best option! With the brand new restaurant, Max, located on the bottom floor of the inn and a handful of restaurants and bars only steps away, you have dining and drinking opportunities at your fingertips.
How Far Am I From the Berkshires?
The Berkshires are a great location for a mountain getaway in the North East! New York City residents can reach the heart of the Berkshires, Lenox, Massachusetts, via a 3 hour car ride or a 3-hour and 25-minute train. Other Northeast locations are even closer. Let's take a look.
Albany, 45 Minutes
Boston, 2 hours and 10 minutes
Burlington, 3 hours and 40 minutes
Manchester, 2 hours and 50 minutes
New Haven, 1 Hour and 45 Minutes
New York City, 3 hours
Syracuse, 2 hours and 50 minutes
Visiting the Berkshires in the Summer Months
Some of the best things about Western Massachusetts include summer in the Berkshires. There are so many great ways to spend a weekend in Berkshire County.
From live music and opportunities to learn about American history to outdoor adventures, the opportunities are endless. Be sure to check out the summer home of the Boston Symphony Orchestra, Tanglewood, the Berkshire Botanical Garden, and more!
Start planning your summer vacation in the Berkshires now.